Services
Services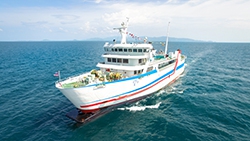 Raja Ferry Port Public Company Limited(RP)
is a service provider for ferry (Passengers and Cars) among Donsak, Koh Samui, and Koh Pha-ngan. We have 13 ferries which serve up to 40 trips in 2 routes which are Donsak-Koh Samui-Donsak, Donsak - Koh Phangan - Donsak.
Our company emphasized a surrounding on the ferry to be cleanliness, convenience and safety for passengers. We also prepare, emergency safety equipment such as life jackets, life boats, and other equipment that passed the standard inspection and ready to use. Therefore ,you can be confident in the trip with the best service quality of "Raja Ferry".

Our service system had passed the international standard ISO 9000 : 2008 that will make you feel confident in our service efficiency and safety.

Moreover, we also have shipping services for private sector such as shipping of fresh fruits and vegetable or shipping of gas and oil. We can arrange special trips for customers, private sectors to use our service, For more information please contact (66 77) 372 800 or Call Center:(66 2) 2768211-2. We are welcome and ready to service at all time.